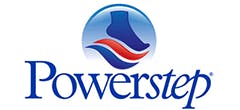 The PowerStep® SlimTech® 3/4 insoles with built-in neutral arch support and plush cushioning foam layer are the perfect balance of comfort and support in an even lower profile design. The 3/4 length with tapered edge leaves extra room at the toes while the non-slip pad at the heel helps hold the orthotic in place. The SlimTech insoles feature the signature PowerStep arch shape but with a low, flat heel cradle adding stability and motion control to limit excess stress on feet, ankles, joints, and tendons.
Description
Feet with neutral arches naturally pronate when walking, where the feet and ankles roll slightly inward, placing pressure on the bigger toes and inside of foot. Neutral arches need stable, yet flexible arch support for shock absorption and proper alignment. By combining premium cushioning and the clinically proven PowerStep arch shape in a semi-rigid neutral arch support shell, the PowerStep SlimTech shoe inserts are a trusted solution to improve foot function, decrease arch pain, and help alleviate common foot conditions typically caused by mild to moderate pronation.

Mild to moderate pronation can cause: Plantar Fasciitis; Achilles Tendonitis; Arch & heel pain; Ankle, knee, hip & back pain; Shin splints; Bunions; Heel spurs; Hammer & claw toes; Calluses & corns
Ideal shoe type: Intended for footwear that does not have a removable factory footbed and designed for shoes with less depth at the toes such as Athletic (Walking/Running), Casual & Dress
Specification
Application Type

Body Area

Condition

Heel Pain

,

Plantar Fasciitis

,

Morton's Neuroma & Metatarsalgia

,

Arch Pain

,

Tired Feet

,

Tired Legs

,

Pronation Problems

,

Holiday Shop

,

Orthotic

Size

UK SIZE (A) - 4.5 - 6

,

UK SIZE (B) - 6.5 - 8

,

UK SIZE (C) - 8.5 - 9

,

UK SIZE (D) - 9.5 - 10

,

UK SIZE (E) - 10.5 - 11

,

UK SIZE (F) - 11.5 - 12.5

,
Delivery & returns
Our shipping basket will calculate your delivery costs. Please note that delivery estimates are subject to stock availability.
Delivery Costs
Please read our full delivery policy here.
Returns
Please read our full returns policy here.