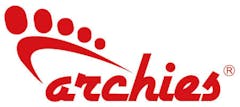 A pair of arch support flip flops so comfy and supportive, you'll never want to take them off your feet!
Description
So what makes Archies so comfy?
Real Arch Support: Up to 2.2cm of orthotic support encourages optimal foot posture aiding whole body alignment.
Super Comfy Material: Our specialised closed cell foam material is formulated to mould to your foot.
No Breaks or Blowouts: Our ultra-strong one-piece design makes the flip flops virtually indestructible.
No Toe Clawing: Your toes don't have to grip to keep your flip flops on, allowing you to walk all day without overusing muscles and tendons in the feet.
Light as a Feather: Archies Flip Flops are so light you'll barely know you've got them on!
Size Guide:
Archies Flip Flops are designed to be tighter fitting. They should "fit like a glove" with very little space in front of the toes and behind the heels so that the arch sits in the correct position on the foot. Follow this guide to get the perfect fit!
Tighter Strap:
Archies Flip Flops have been designed with a tighter strap compared to normal flip flops. Both podiatrists and customers alike, absolutely love this feature as it allows them to walk with a normal walking motion, often over impressive distances in comfort, and without issue! The good news is, while a tight strap is essential for normal foot function, if the strap is too tight it is very easy to instantly fix this by stretching the strap and toe pole to reach your desired level of tightness. If you prefer a loser fit, we recommend going a size up!
Specification
Colour

Shoe Size

UK 4 - 4.5

,

UK 5 - 5.5

,

UK 6 - 6.5

,

UK 7 - 7.5

,

UK 8 - 8.5

,

UK 9 - 9.5

,

UK 3 - 3.5

,

Condition

Achilles Tendonitis

,

Arch Pain

,

Flat Feet

,

Aching Feet

,

Fallen/Weak Arches

,
Delivery & returns
Our shipping basket will calculate your delivery costs. Please note that delivery estimates are subject to stock availability.
Delivery Costs
Please read our full delivery policy here.
Returns
Please read our full returns policy here.