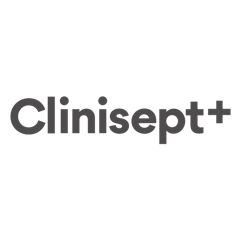 Clinical Health Technologies official statement on coronavirus.
In response to the many enquiries we have received regarding the effectiveness of Clinisept+ against Coronavirus, Clinisept+ has been rigorously and independently tested and proven to be highly effective in killing all enveloped viruses, including Coronavirus in under 15 seconds.
Clinisept+ is a new chemistry and therefore not yet registered as a skin disinfectant. However, Clinical Health Technologies is working towards attaining this accreditation which would enable us to legally state that Clinisept+ is rapidly bactericidal, fungicidal, virucidal and sporicidal - as per independent test evidence.
Given the exceptional situation with Coronavirus and Clinisept+'s ability to protect against infection, we are currently in discussion with the authorities regarding the wider use of Clinisept+.
How to use:
Simply spray all over the hands and rub hands to ensure full coverage as you would a hand gel. You can apply as frequently as wished, with no fear of drying the skin.

Description
Clinisept+ is a fast-acting cleanser and antimicrobial solution that can be used for both pre-procedure and after procedure skin cleaning.
Clinisept+ provides highly effective microbial control but because of its gentle oxidising method of action doesn't itself inhibit skin recovery: it causes no stinging, sensitising, or irritation and neither does it dry the skin. Clinisept+ is suitable for use on normal and sensitive skin.
Clinisept+ products are effective in seconds and deliver more effective protection against bacteria than traditional skin cleansing chemistries. But they are also more 'skin compatible' than traditional skin cleansing chemistries: Clinisept+ has a skin neutral pH, contains no alcohol, is non-irritant to skin and eyes and does not cause respiratory irritation.
Contains the latest hypochlorous technology to provide professional levels of antimicrobial protection without stinging.
Specification
| | |
| --- | --- |
| Brand | |
| Condition | |
| Body Area | |
| Formulation | |
Delivery & returns
Our shipping basket will calculate your delivery costs. Please note that delivery estimates are subject to stock availability.
Delivery Costs
Please read our full delivery policy here.
Returns
Please read our full returns policy here.
Customer

reviews
1 review for Clinisept+ Procedure Aftercare 100ml
bought this as unable to get hand sanitiser. feels nice, gives confidence.